Saturday, September 1, 2012
In the fifth grade, I published my first story locally. I didn't feel like it was a big deal, but my family did. My grandfather, a truck driver, carried a copy of the book everywhere with him, allowing everyone he met on the road to read it. He bragged about his granddaughter, the writer. I never saw myself quite like he did though.
To me, writing was a hobby, not a career path, and definitely not something I wanted to do professionally. I wanted to be a hippy, and later a lawyer. But I did love to write. Story after story piled up in the corner, written . . . and then written off.
A few years ago, that changed. I had a story floating around inside that felt too important to be left to rot in a dusty corner. But I had no desire to publish the story either. It was a little too personal, and a little too close. Not to mention a little too long and emotional.
I'd just learned about the world of fanfiction, and decided if I was going to write Empty Panes, I had to share it. I opted to write it as Twilight fanfiction. I never expected that the story would do as well as it did. Nor did I expect how much I would learn about writing during the process, or how important it would become to me. By the time I finished Empty Panes, I had a few other stories floating around inside, none of which I had any desire to publish. So I clicked "Complete" on Empty Panes, and moved on to Rapture.
At the time, the mere thought of publishing outside of the fandom made me queasy. I was content writing originals never to be seen, and posting fanfiction. But a lot of people had a very different idea. Readers constantly encouraged me to try to publish. My mom roped half the family into badgering me to try. My friends prodded at me endlessly. I ignored them all. No way would I ever be a decent published author. I liked commas too much and didn't know the first thing about prepositional phrases.
And then I got sick. Another unexplained brain lesion. And a whole new host of drugs that made writing impossible. Some days, I couldn't even focus on simple tasks like laundry. I'd pour carpet cleaner in the washer instead of detergent. I parked the car in the middle of the road instead of the driveway. I lived in a haze of morphine and compazine, topamax and amitriptyline.
I was frustrated. Things that had always been so easy to me suddenly weren't. And I missed writing. This thing I never intended to do forever had become so important to me, and all of the sudden, I couldn't seem to do it anymore.
When I sat down to write one day, the words wouldn't come and my months of frustration boiled over. I felt like a failure because something I'd taken for granted every day for two years had suddenly become so hard. I burst into tears. My husband walked in mid-sobfest. Between sobs and sniffles, I told him how horrid I felt, and how much I missed writing.
He convinced me to pick up one of the stories I had already written, and start there instead of trying to work on something in progress. "Maybe the words will come easier when they're already written," he said.
I wasn't so sure about that, but Fade had been whispering in the back of my mind for a long time, and I'd been ignoring it since the story would never see the light of day. I was desperate though, so I took his advice and picked up the finished novel again. I started editing, and somewhere along the way, I realized that maybe Fade deserved to be told as much as Empty Panes.
I reluctantly agreed to send the story on its rounds to publishers and agents. I figured I would get a few rejections, wave them in front of the crowd, and tell them I tried and I failed. My friends and family would then stop bugging me to publish, and let me live my life as a contented fanfiction writer. Things didn't quite work that way.
Two rejections and three months later, I had a contract offer. I was suddenly faced with going from a fanfiction writer to a nothing writer to a published author.
A year later, I'm still not sure how to answer that question. But the transition has been interesting. Some days, I still can't write a word. Other days, I think life was less demanding when everything I wrote eventually found its way to my FFn profile. And then there are those days where I sit down with these original characters who never saw the light of day before, and am struck with an overwhelming appreciation for the entire, crazy publishing process.
I still have no clue what I'm doing, but Fade's release is just around the corner, and Arionna and Dace are still chattering in the back of my mind. A whole host of other characters once relegated to that dusty shelf have joined them. And somehow, along the way, I've learned to accept my limitations and be grateful for the days I can write instead of crying over the ones when I can't.
To me, that's been the biggest adjustment to this transition. Learning to accept my limitations, and to work with them. I've never been a very patient person, and publishing is a lesson in patience. There is no instant feedback. There are no instant results. And there is a lot of hard work involved. In addition to writing, editing, and agonizing over every chapter, I now agonize over every guest post, interview, and blog post, too.
Finding a balance between Ayden the Crazy Fanfic Author and Ayden the Somewhat Sane YA Author has tested my patience more than once, as well. I've gone from posting erotic fanfiction, to writing for an entirely new, and younger crowd. From having no filter and posting all sorts of questionable content, to being cautious of what I say or post because there are young kids watching. That's nerve-wracking in and of itself! But I'm slowly beginning to master the art, I think. No angry parents have come beating on the door with pitchforks and torches yet.
That's a good thing, right?!


---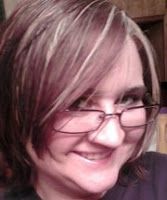 A.K. Morgen (Ayden) lives in Little Rock, Arkansas with her real life hero, Courtney, and their three crazy pets. She has a graduate degree in Criminal Justice and grand plans to save the world someday. When she's not writing, she spend her time teaching her niece and nephews useless facts, dancing in odd places, and fundraising for nonprofits close to her heart. She's a volunteer coordinator for her local Ronald McDonald House, and she helps care for her very special nephew, Aloshua. You can also find her dancing, hiking, reading voraciously, tweeting too much, and talking a lot.
Ayden loves weaving real-life issues (such as losing a parent, living with post-traumatic stress, etc) with mythical and fantasy elements in her work. Her debut novel, Fade, will release on September 7, 2012 from Curiosity Quills Press. Fade, Book One of the Ragnarok Prophesies, is a modern, romantic, and often emotional retelling of the Ragnarok prophecy (Twilight of the Gods) of Norse mythology. The novel is set in small-town Arkansas.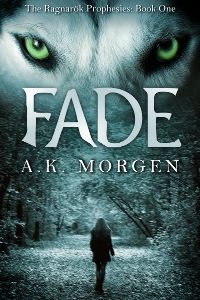 Ayden's debut novel, Fade, will release on September 7, 2012 from Curiosity Quills Press.
Fade, Book One of the Ragnarök Prophesies, is a modern, romantic, and often a very emotional re-telling of the Ragnarök prophesies (Twilight of the Gods) of Norse mythology.
"

When Arionna Jacobs loses her mother in a tragic accident, her world is turned upside down. She's forced to leave her old life behind and move in with her father. Dace Matthews, a teaching assistant at her new college, is torn in two, unable to communicate with the feral wolf caged inside him...

"
"What do you do when you realize nothing in your life is what you've believed it to be?"
---
Are you completely intrigued? Want more?
Click
here
for an amazing except.


*Don't forget to leave a comment to be entered in to the giveaway for your own copy of Fade!
---
*Promo banner by
PMU