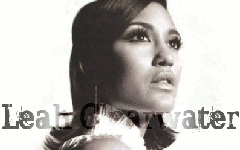 First & Only Award Site Dedicated to Leah Clearwater
Welcome to the She Wolf Awards. This is an award site blog dedicated to the most misunderstood shape-shiftier from the Twilight Saga - Leah Clearwater.
Together on here we want to unite our fellow Leah lovers by giving them awards for their amazing stories and graphics that spotlight our Alpha Female.
Our mission is to put Leah Clearwater in the spotlight and show her in a positive and uplifting way.

We want to bring to you the Leah Clearwater that we fell in love with and help you understand why we love her so much. She is so more then just the "pathetic ex-girlfriend" who can't get away from Sam Uley or a bitter harpy that hates everyone, so it's celebrate time our favorite authors and artists with the first and only awards program featuring our favorite She Wolf!
Important Dates
Nominations begin May 1 - 20
Voting begins May 21 - 31